UPDATE: This blog you are reading now has a mirror site at http://www.gangstalkingresearch.Wordpress.com , where you can follow Mr. Richard Moore's lawsuit, and new posts about gang stalking more closely
The civil rights era was the heyday of gang stalking by white supremacists in the Dirty South and elsewhere, and as targeted individuals are beginning to take up camera's to document the absurd and insane behavior of gang stalkers, we tip our hats to the past–and photographers like Charles Lee Moore.
From CNN:
'Unparalleled': Charles Moore's photos of the civil rights movement
The Stephen Kasher Gallery in New York labelled Moore "the single greatest civil rights photographer" of the civil rights era during its 2015 exhibition "Selma March 1965."
Here is a photo from that exhibition–and notice the slouching, smirking cowardice of the slobs in the picture–while Moore was most famous for photos like Dr. King being booked into jail, or the incredible shot of a police dog tearing the pants off a non-violent, compliant black marcher as another dog leaps into the photographers face–it is this iconic photo of the slovenly, stupid, violent white men who do these violent things that is perhaps his finest.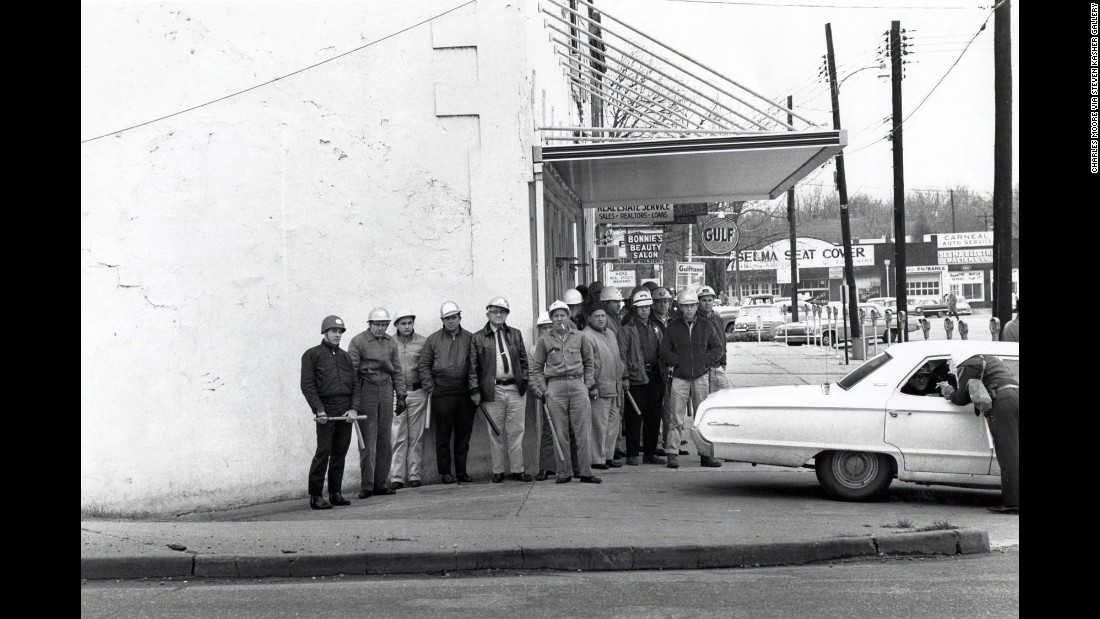 And, Moore was kind of a badass as it were, allowing thugs to pummel him, pull his hair and even shove him to the ground as he struggled to get the right shot. Predictably, these thugs were the same thugs then as they are today–as nearly 100% of all gang stalking groups are comprised of current and former military, police, and intelligence agents working with their friends, relatives, "community assets, and others. These are who gag stalkers ARE.
The title "intelligence agents," of course, only implies that they worked at an agency staffed by thousands of people–one big brain to compensate for their combined low-IQ's-that these human beasts as individuals are not necessarily all that intelligent. Just look at those guys in the picture–that's what gang stalkers look like; slack jawed low IQ morons for the most part–and that old guy with the stooped in shoulders! A Viagra IV couldn't jolt life into that old coward with the club in his hand. Imagine their wives now–they all look like #fakeTI Midge Mathis no doubt–yikes.
Here's a snapshot of Moore with a gas mask, taken by another civil rights era photographer
For those who do not understand the violence, and riot like atmosphere of the Black Lives Matter movement of the last decade, it is only through looking back into this era where we realize that non-violence was largely a failure–and that gang stalking has existed for many millennia. Martin Luther King was himself an inter-generational target of the US military, the CIA, the FBI, and NGO's like the Jewish Anti Defamation League all spied on him together.
And the Jewish-christian white supremacy of that era did not go away–it merely took off its white robes, and dispersing itself into various forms of gang stalking programs, such as the Clinton COPS program, and today's unconstitutional "intelligence led predictive policing",and the equally fraudulent countering violent extremism programs"" (CVE) and its many spawn around the globe. Like the devil itself, these demons people keep shape-shifting into new terminology, phrasing themselves as a "new tactic, technique or technology, when it is just more of the same–from the same group of confabulists that has done this in one form or another since around 70 A.D.
Indeed–their spawn are everywhere now, and both the left and the right–Jews and christians, and Blacks, Asians and Latino's all utilize gang stalking tactics. Perhaps one could argue that this is an improvement but its only another shape-shifting by well known hegemonic tribalists and other religious frauds(no, its not just "the Jews" doing this). Its alarming how many black cops, for example, are there on the scene shooting other black men these days, using the tactics of Israelification in daily, ordinary policing.
All of that said, there is a modern context to the story of Charles Lee Moore, and inter-generational targeting, and you can read more about it from photographer Moore's own cousin, Richard Moore of Mississippi, writing here, and view a few gang stalking lawsuits currently working their way through the federal courts in Mississippi.Indeed–Richard Moore is likely an inter-generational target himself.
To be absolutely clear, I have stated often that many targeted individuals are not always the most well spoken; not always the best looking, or easily endearing of people–real targeted individuals are not polished authors or candidates for prom king, nor do they run slick internet search results clogging advertising campaigns as Targeted Justice is doing–indeed, real targets range from those who police are trying to turn as informants, to people with low education, or even lower opportunities to better themselves–people who have been marginalized–and they are easy targets of bullying of all kinds, and ready made scapegoats for institutional bullies.
Mr. Moore has started his path forward, and he writes:.
It's been nearly 20 years of dealing with Corrupt law enforcement in North Mississippi. Organized community policing aka Gang Stalking is all the rage. This law enforcement ran Criminal organization is done under the guise of simply a neighborhood watch.
As I have said frequently–and in direct contradiction of the well know #fakeTI's who populate most internet forums about gang stalking, rambling on about being zapped by satellites and worse (Targeted Justice, Ramola D, the United States Air Force's own AF-OSI "OSI Informers" operation, TargetedOne, and many more.)
For the record, I too have some history with relatives who organized those 1960's garbage strikes, and participated in some marches, and who organized a few unions too– so I know what gang stalking is from before I was born. Its in my genetic makeup–"my genetic memory" to call it out when I see it. And, I don know a thing or two about how to target them back too.
Related Story: The Tampa Bay Times wins its "13th Pulitzer Prize" for reporting on the Pasco County "targeted individual program. The series was titled "Targeted."–but even that isn't all that it's cracked up to be is it? More about the 13's here.